Virtual Conference: " Empowerment of individuals and organisations : the importance of community-based approaches in health"
Conférence en ligne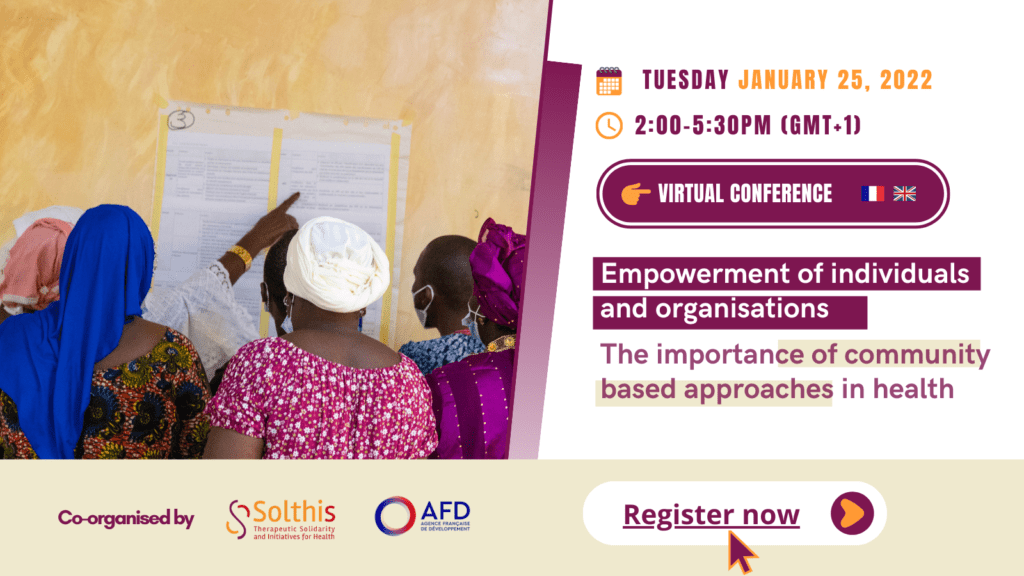 Register today, more information will be provided soon!
Dear all, 
We are pleased to invite you on Tuesday 25 January 2022 to the virtual conference: " Empowerment of individuals and organisations : the importance of community-based approaches in health" co-organised by AFD and Solthis in collaboration with our associative partners in Côte d'Ivoire, France, Guinea, Mali, Senegal and Sierra Leone. Solthis has been involved for several years in health community-based approaches that promote the empowerment of individuals and civil society organizations. Solthis implements approaches that place citizens, health services' users, health professionals and civil society organisations (CSOs) at the centre of projects, thus promoting the collective and collaborative construction of solutions for equitable access to health.
AGENDA
Introduction of the conference of the conference by Anne ROOS-WEIL, Deputy Head Health & Social Protection Unit – AFD and Serge BREYSSE, MD – CEO of Solthis
ROUND TABLE 01 – "Empowerment of civil society organisations: what types of collaborations with International NGOs and which synergies between actors ?" with the participation of:
Idrissa SONGO, Executive Director– NETHIPS (Network of People Living with HIV), Sierra Leone
Pauline KIBE,  Civil Society Strengthening  Advisor- Solthis, Sierra Leone
Vanessa GAUTIER, International Officer – F3E, France
Anthony VAUTIER, Technical Director of the ATLAS project  (HIV Self-Testing: Free to know your Status) – Solthis, Senegal
Odé KANKU KABEMBA, Country Director – Solthis, Mali
Aminata Saran SIDIBE KEITA, MD – Project Officer – Soutoura Association, Mali
Daouda DIOUF, Executive Director – Civil Society Institute for Health in West and Central Africa
Moderated by Hélène ROGER, Advocacy and Analysis Director  – Sidaction, France
ROUND TABLE 02 – "Individual empowerment: a participatory process to balance knowledge and power" with the participation of:
Etienne GUILLARD, Referent for Health Systems and Services Strengthening – Solthis, France
Harouna Mamane, Technical Coordinator of the RUCHE project (Placing users at the centre of the fight against HIV) – Solthis, Guinea
Djenabou BANGOURA, Psychosocial Counsellor – FEG Association (Federation, Hope, Guinea)
Amina BOUBE ABOU, Community Mobilisation Manager – Lafia Matassa NGO, Niger
Jeanne FOURNIER,

Innovation and Capacity Building Officer

– Equipop NGO, Burkina Faso
Josiane TETY, Executive Director –  BLETY NGO, Côte d'Ivoire
Séverine CARILLON, Health Anthropologist – ANRS, Senegal
Moderated by Jeanne GAPIYA NIYONZIMA, President of the National Association of Seropositive and AIDS Patients in Burundi (ANSS), Member of the Board of Sidaction and Coalition PLUS.
Conclusion of the conference by Nicolas LE GUEN, Head of Civil Sociey Unit – AFD
We look forward to seeing you on 25 January,