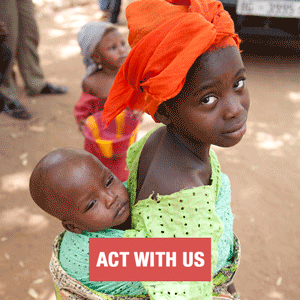 Click here to discover (in French) the paediatric aspect of our EMPOWER project en Sierra Leone, where our team – in place since 2011 – assessed the damages of the Ebola outbreak whereas the country was still recovering from the civil war. A high rate of the children's mortality is observed and only 15% of the needs in terms of antiretrovials treatments are covered. This project is co-financed up to 50% by The Agence Française de Développement (AFD)  till 2018, as well as by the City Hall of Paris and the Bettencourt Foundation Schueller for 2016 but we are still in need to find other donors to fully implement the project in 2017 and 2018.
Click here to discover (in French) our DIAVINA project in Guinea:
This project, funded by ANRS, the City council of Paris and Saham Insurance Guinea, aims to assess a strategy combining an early diagnosis for HIV and antiretroviral (ARV) treatment from birth, for infants highly exposed to the virus, born from mother untreated during their pregnancy. To ensure sustainable results, the program shall run for a period of 3 years – Different projects to fund (paediatric instruments, medicines…).
Click here to discover (in French) our FOPP project:

FO

rmation du

P

ersonnel

P

aramédical (Paramedical Staff Training) to the HIV health care and the relation between the healthcare team and the patients.At the heart of this project: a board game called the « Trivial Pursuit » adapted to become a training support! First set in Niger, this project needs your support to be extended to additional countries of Western Africa.
JADES project (Young and teenagers in health) deals with the health of young people and teenage girls in Mali and Niger. It aims to promote sexual health for teenagers, to reduce new infections and mortality related to HIV/AIDS through preventive actions, training, mentoring and awareness campaign. The goal is also to increase awareness amongst young people so that they can play an active role in their own health and safety, especially on prevention of teenage pregnancy and sexually transmitted infections. To learn more about other projects to support, contact us, click here.