GUINEANIGERCAPACITY BUILDINGGOVERNANCE AND HEALTH POLICIESHEALTH FINANCINGHEALTH INFORMATION SYSTEMHEALTH PRODUCTS AND PHARMACEUTICAL SYSTEMHUMAN RESOURCES FOR HEALTHLABORATORIES AND TECHNICAL PLATFORMSSTRENGTHENING SYSTEMS AND HEALTH SERVICESFighting HIV / AIDS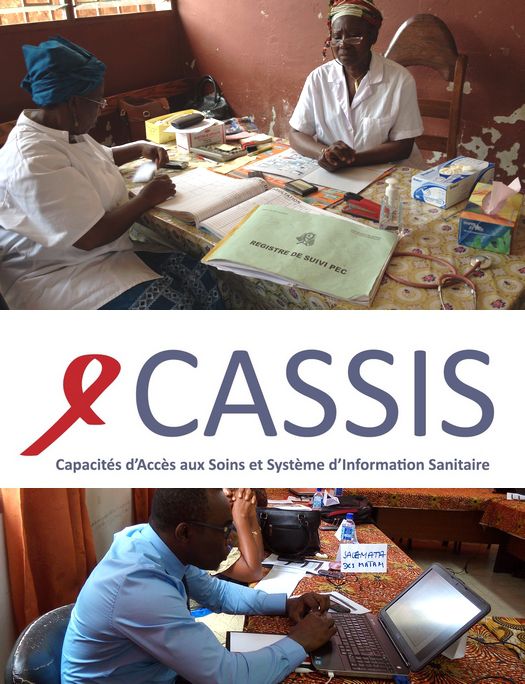 Please find below all details in french.
Les enjeux
Au Niger, 41 000 personnes vivent avec le VIH/Sida dont 9 000 enfants et 2 500 femmes enceintes. En Guinée, ce sont 130 000 personnes qui vivent avec le VIH/Sida dont 13 000 enfants et 6 000 femmes enceintes.
Le Niger et la Guinée reçoivent des subventions du Fonds mondial pour financer leurs programmes nationaux de lutte contre le VIH/sida mais malgré l'engagement volontaire et les progrès réalisés dans ces pays, l'accès au traitement VIH/sida y est encore insuffisant. En effet ces pays ne disposent pas toujours des compétences et des capacités nécessaires pour assurer la mise en œuvre optimale de ces subventions.
Le projet CASSIS (Capacités pour l'Accès aux Soins et le Système d'Information Sanitaire) intervient en renforcement de capacités sur ces deux axes :
L'accès aux soins

Le Système d'Information Sanitaire
Démarrage : Février 2013
Zones d'intervention : Niger et Guinée
Budget : 2,2 millions €
Source de financement : Initiative 5% (Pilotée par Expertise France pour le compte du MAEDI), Fondation Bettencourt-Schueller
Bénéficiaires : Consortium avec :
Ministère de la Santé Guinée et Niger (PNPCSP et ULSS)
Cellule sida de la présidence (CISLS et CNLS)
Onusida Niger et Guinée
Objectifs
Bâtir un système de prise en charge médicale du VIH/sida accessible, performant et pérenne.
Axe 1 : Renforcer les capacités pour l'Accès aux Soins
Décentraliser : démarrer le dépistage, la prise en charge et le suivi des patients dans de nouvelles structures sanitaires

Améliorer la qualité de la prise en charge : maintenir les patients dans le soin et améliorer le suivi médical sur les sites de prise en charge accompagnés
Axe 2 : Renforcer les capacités pour le Système d'Information Sanitaire
Renforcer le circuit de collecte et de remontée des données sur l'ensemble des sites de prise en charge du VIH

Renforcer les capacités d'analyse stratégique (appropriation, évaluation, pilotage)
Activités
Au niveau national : auprès des Ministère de la Santé Publique et du CNLS (Guinée)
Appui technique à l'élaboration des documents stratégiques nationaux (Cadres Stratégiques Nationaux-CSN, Protocoles de prise en charge VIH, plans de décentralisation)

Appui à la gestion et à l'utilisation des données pour le pilotage stratégique du programme national de lutte contre le VIH

Mise en place d'un pool de formateurs nationaux et appui à la définition d'un plan de formation au niveau national ; élaboration de modules de formation actualisés avec les recommandations internationales et les protocoles nationaux
Au niveau régional : appui aux Directions Régionales de la Santé (DRS) et aux Directions Préfectorales de la Santé (DPS)
Renforcement équipes-cadres en matière de supervision formative

Mise en place de parrains régionaux (médecins et pharmaciens expérimentés des hôpitaux régionaux) pour le compagnonnage des sites démarrant la prise en charge du VIH

Renforcement pour la supervision de la collecte, la remontée et l'analyse des données
Au niveau des structures sanitaires :
Évaluation et mise à niveau de 16 structures sanitaires : aménagement et dotation de matériel, mise en place des circuits (médicaments, examens biologiques, données)

Formation des personnels de santé pour le démarrage de la prise en charge du VIH dans 10 hôpitaux préfectoraux et centres de santé

Visites sur sites et tutorats cliniques pour améliorer les pratiques des personnels de soins des sites de prise en charge, dans une démarche d'amélioration de la qualité structurée autour d'indicateurs clés ; animation de grands staffs cliniques inter-sites, en capitale et en région.

Consolidation des circuits de collecte de données dans les sites

Appui à l'informatisation de la collecte des données dans 11 structures sanitaires

Formation et accompagnement des personnels des sites de prise en charge en matière d'analyse des données produites
Résultats
Renforcement des compétences du personnel médical et paramédical :
Guinée : 22 sites impactés et 400 personnes formées

Niger : 16 sites impactés et 200 personnes formées
Amélioration de l'accès géographique aux traitements, extension de la prise en charge à :
10 structures sanitaires réparties dans 7 régions de Guinée

6 hôpitaux de district des régions de Tillabéri et Dosso au Niger
Renforcement du SIS dans les sites de prise en charge, dans les directions régionales de santé et au niveau central :
Guinée : 46 sites impactés et 100 personnes formées

Niger : 29 sites impactés et 40 personnes formées