COTE D'IVOIREGUINEAADVOCACY FOR FAIR ACCESS TO QUALTITY HEALTH CARECommunity mobilisation and health promotionSTRENGTHENING SYSTEMS AND HEALTH SERVICESFighting HIV / AIDS
The project is experimenting a patient-centred approach to HIV care through capacity building for users, healthcare professionals and decision-makers.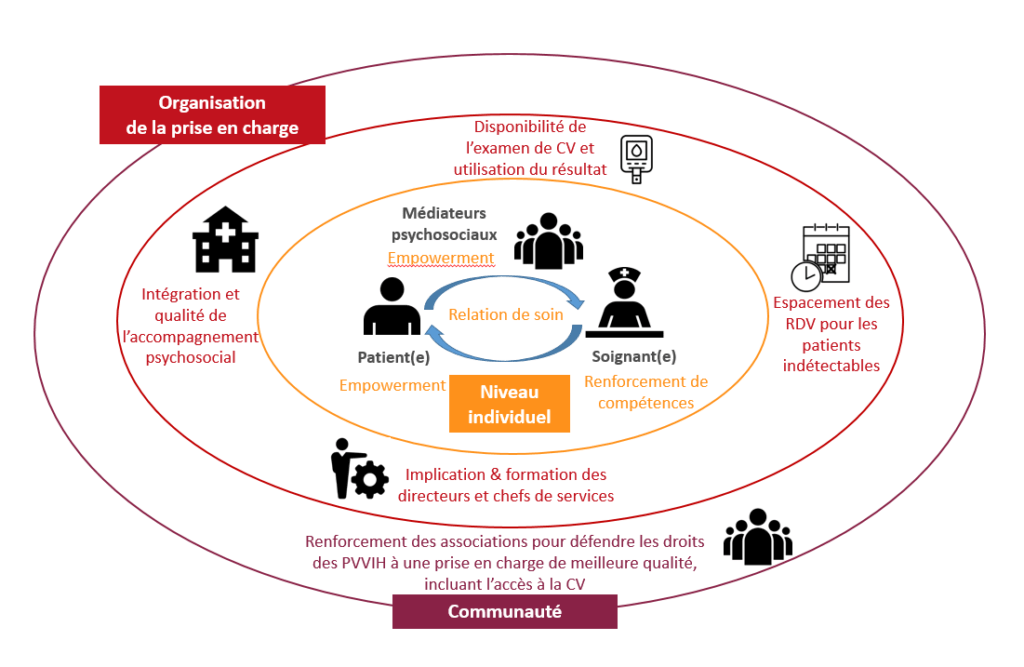 Context
Côte d'Ivoire and Guinea are significantly lagging behind in the fight against HIV/AIDS despite relatively good decentralization of health care services. In Côte d'Ivoire, the main problem for people living with HIV (PLWHA) remains access to knowledge of their status: more than one PLWHA in two (61%) is still unaware of their serological status. In Guinea, only 58% of PLWHA know their status, of whom only 51% are receiving ARV treatment and 19% have an undetectable viral load. These results question the quality of care and its experience by patients and caregivers. In this context of delay in reaching the objectives of the three 90s in the fight against AIDS, the project aims to act in synergy with other interventions developed to fight HIV in Guinea and Côte d'Ivoire to improve the most critical stage in terms of coverage of needs in each country: access to knowledge of one's serological status in Côte d'Ivoire and the quality of care in Guinea.
Démarrage : Février 2020

Durée : 3 ans

Zone d'intervention : Guinée et Côte d'Ivoire

Budget : 1 800 878 €

Source de financement : AFD, Mairie de Paris et Unitaid

Bénéficiaires : personnes vivant avec le VIH, équipes soignantes, acteurs associatifs et de la société civile, représentants des autorités sanitaires

Partenaires :

En Guinée : Ministère de la Santé, la FEG et les membres du collectif inter-associatif pour la promotion des droits des personnes vivant avec le VIH  (REGAP+, REFIG, FEG, FMG, ASFEGMASSI, Afrique Arc en Ciel Guinée),

En Côte d'Ivoire : Ministère de la santé et de l'Hygiène Publique, Fondation Ariel Glaser, l'ONG  Heartland Alliance International, Espace Confiance, Blety, Aprosam, Ruban Rouge Côte d'Ivoire, Eloé
Goals
The RUCHE project aims to place users in the centre of the HIV control system by implementing a capacity building approach for users, healthcare professionals and decision-makers in order to improve adherence, maintenance of care and access to testing for people who are not currently tested. In Guinea, the RUCHE project comes to reinforce the 1st phase of the project "PACTES: Patients- centred treatment and care" implemented in Guinea since 2017.
Results obtained:

---