9 October 2020 | Informations
NIGERADVOCACY FOR FAIR ACCESS TO QUALTITY HEALTH CARECommunity mobilisation and health promotionPromoting Sexual and Reproductive Health and Rights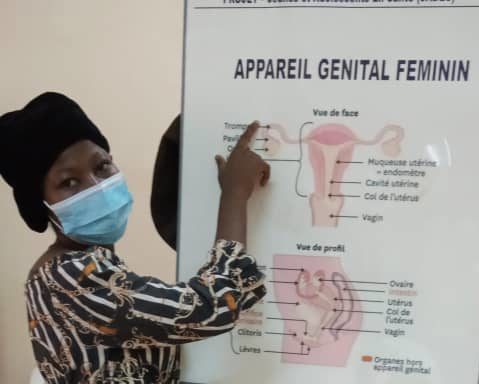 Leyla Adoum, 23 years old, lives in the Balafon district of Niamey. As part of the implementation of the first phase of the (JADES) project, she was identified in 2016 as a peer educator to lead the activities within her school for her peers, boys and girls.
Since the age of 20, Leyla has been interested in the difficulties that young people, particularly girls, face in the area of adolescent sexual and reproductive health in Niamey. Today, thanks to the activities of the second phase of the JADES project, she is making this issue her daily struggle to stop adolescents and young people from suffering due to a lack of access to "good information" on SRHR.
She is able to express herself freely, without shame, with her peers and those around her on reproductive health issues. "Before joining the peer educator group, I was unaware of the existence of sexually transmitted infections (STIs) and the circumstances leading to unwanted pregnancy, as well as the existence of young people's rights and youth-friendly health services (Centre Ami des Jeunes, Niamey). Thanks to the various training courses I received with the JADES 2 project, I was able to become aware of the risks that surround me as a young person and share this experience by raising awareness among other young people. I am very proud of what I do for my friends" says Leyla.
In addition to raising awareness among her peers, Leyla Adoum involves her family. Her aunt participated in the health promotion campaign run by the implementing partner, the NGO Lafia Matassa, last month. "Leyla tells me about her activities as a peer educator on the JADES 2 Project and I am impressed. So I decided to take part in a film screening activity on sexually transmitted infections. After the screening, I was able to differentiate between the warning signs of STIs and understand the seriousness of the situation when they are not treated in time," says her aunt.
It should be noted that for the majority of young peer educators, the JADES 2 project represents an opportunity to develop an enabling environment in Niger on SRHR issues. A total of 40 peer educators are mobilised in the cities of Niamey and Maradi.
---
Read also – A hope for young people's sexual and reproductive health in Niger
The JADES 2 project is being implemented by the NGO consortium (Lafia Matassa, Equilibres & Populations and Solthis as the consortium leader) with the aim of improving young people's access to sexual and reproductive health. the French Development Agency and the Paris City are co-funding the project for a period of 3 years.