Since 2013, Solthis has decided to publish a Statement of income and spending, though it is not legally required to do so. Thus, Solthis has always made financial transparency an inherent part of its professional ethics.
---
The social mission covers expenses incurred by Solthis aimed at improving the health of populations by sustainably strengthening health systems in countries with limited resources.
Fundraising expenses: Solthis continued to structure its efforts to seek private funds to support the growth of its operations and to intensify the diversification of its funding. For this purpose, in 2015, the Solthis' Ambassadors Club was created.
Administrative costs: the headquarters of the association is located in Paris. It oversees the operational activities of the field teams and helps ensure the link with academic, institutional and associative partners.
The international social mission includes all spending in the field, including:
operational expenditures relating to the activities to improve systems and health services (training, equipment for support sites, contribution to overheads and transport), operational research and advocacy.
support to operations: expenditures incurred in respect of the headquarters-field coordination, including HR costs and on-site follow-up mission expenses.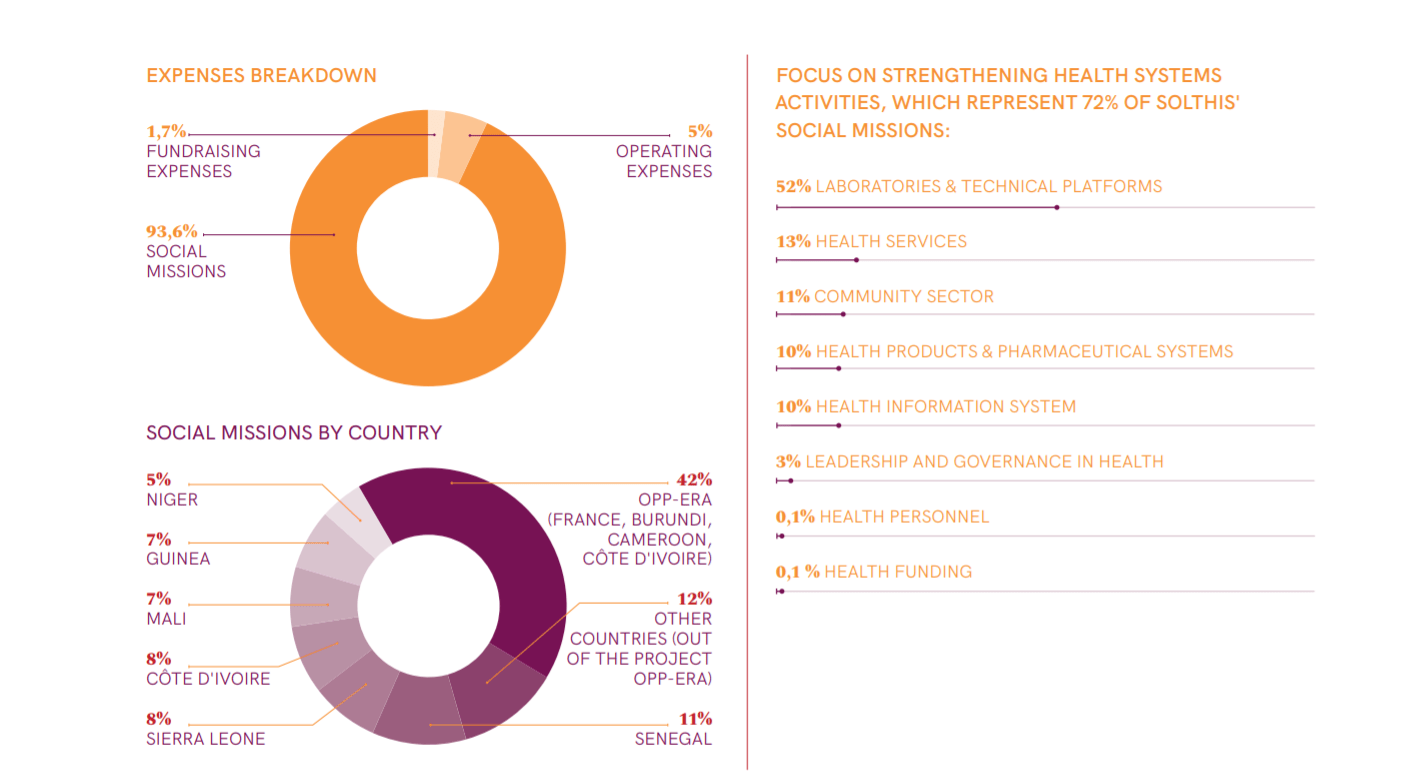 2019 was defined by the launch of a number of new projects (CAP / Empower II as part of the AFD-Solthis Programme, but also the second phase of the Jades, Aire, Prossan and Airpop projects) and the increase of activities for the project ATLAS. Several grants expired in 2019 such as : OPP-ERA, Jades I, Empower I, Diavina. As well as in 2018, the activity within the 4 countries of the OPP-ERA project remains predominant in 2019. With the rise in power of the ATLAS project in 2019, the activity in Senegal (where the Senegal Atlas team is present as well as the project coordination team) presents a strong increase this year of 11% of social mission expenses (View graphic on page 45 "Missions social by country"). Solthis is also strengthening its presence as an actor in the technical assistance market, with ad hoc missions in 2019, such as in DRC for an audit of the the country's HIV patients cohort, in Gabon for the development of the grant application to the Global Fund for the Tuberculosis Program, or in Niger for the implementation and monitoring-evaluation of the national plan for HIV testing, Antiretroviral Treatment and Prevention of Mother to Child HIV transmission.
Since 2015, Solthis has called upon the generosity of the public, as part of its strategy of diversifying funding sources.
---
Financial transparency
The 2019 accounts were certified by the statutory auditors from KPMG.
Download the 2019 annual accounts in french
Download all the previous annual accounts