community, HIV, sexual and reproductive health, youth, youth health
NIGERADVOCACY FOR FAIR ACCESS TO QUALTITY HEALTH CARECAPACITY BUILDINGSTRENGTHENING SYSTEMS AND HEALTH SERVICESFighting HIV / AIDSPromoting Sexual and Reproductive Health and Rights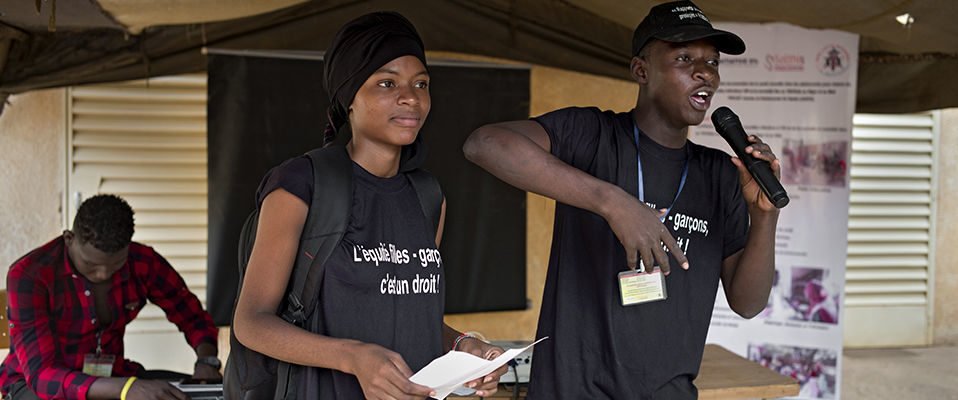 A social, political and medical approach to improving rights and access to sexual and reproductive health and rights (SRHR) for young people and adolescents to reduce new HIV infections and unwanted pregnancies.
Context :
In Niger, where nearly 70% of the population is under 25 years of age and where HIV/AIDS prevalence among 15-24 year olds is 1% (compared to 0.7 in the general population), youth is a strategic issue in the fight against HIV/AIDS and in improving sexual and reproductive health. Especially since the increased risk of infection is highlighted due to limited knowledge of STI/HIV, lack of access to reliable and good quality information, socio-cultural factors related to taboos around sexuality, gender inequalities and the limited place of young people in society that limits their decision-making power, as well as limited demand and supply of services in the field of sexual and reproductive health. These vulnerabilities are most pronounced for young girls, with nearly two-thirds of new HIV infections among adolescents aged 15 to 19 occurring among women.
Launch: April 2019
Duration: 3 years and a half (2019-2022)
Countries of intervention: Niger (Niamey, Maradi)
Funding sources: Paris City Hall – French Agency for Development (AFD) – Eurofins Foundation – Fondation de France 

Beneficiaries: Structures providing SRHR services to young people (15-24 years old), communities, local civil society organisations, national authorities
Partners: Equilibres & Population, Lafia Matassa

Goal of the project:
To contribute to the reduction of new HIV infections, unwanted pregnancies among adolescents in Niger
The JADES project aims to improve the national environment for Sexual and Reproductive health Rights by deploying an innovative and multi-channel strategy that combines youth empowerment, social and political mobilization of key stakeholders, and strengthening sexual and reproductive health services in targeted areas.
Continuing the first phase of the project, the JADES 2 project will make it possible to make young people actors of their health, improve their access to good quality information on sexual and reproductive health and refer them to appropriate services. This 2nd phase will focus on creating a collective youth leadership to advocate at the national level, challenge and strengthen decision-makers' commitments to a national SRHR strategy that is well adapted to their needs.
Results obtained

Learn more about the Project JADES -phase 2 
Learn more about the JADES project – Phase 1.