Solthis started operations in Niger in 2004 in order to extended care delivery to the entire country. Today, 29 treatment sites are supported to address four key health issues: HIV/AIDS, tuberculosis, malaria and mother and child health.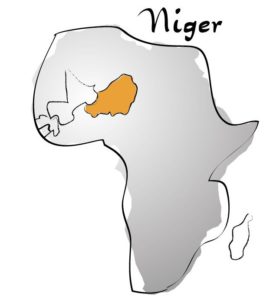 | | |
| --- | --- |
| Population (millions) | 17,1 |
| Life expectancy at birth | 58,4 |
| HDI rank | 187 |
| Fertility rate | 7,6 |
| Infant mortality per 1,000 births | 63 |
| Number of physicians per 10,000 population | 0,2 |
| Total health expenditures (% of GDP) | 5,3 % |
Focus on 4 health priorities
Sexual and reproductive health
Niger has one of the highest fertility rates in the world, at more than seven children for each woman. While the health situation in terms of infant and infant-juvenile mortality has improved, there are still major challenges in sexual and reproductive health as well as maternal and neonatal mortality.
Malaria
The WHO reports 850,000 cases each year since 2010. Malaria is the leading cause of death among the most fragile groups: pregnant women and children under five.
Tuberculosis
The number of cases detected in the past three years has risen by 3.7% annually while the rate of successful treatment is declining, due in particular to increasing no-shows.
HIV/AIDS
In 2014, 41,000 people were living with HIV/AIDS, including 9,000 children. Of these 9,000 children, only 7% have access to antiretroviral treatments.
 Our operating context
Started: 2004
Partners: ULSS (AIDS sector battle unit, Ministry of Health), CISLS (inter-sector coordination of the battle against STD/HIV/AIDS)
29 sites supported
12 health professionals mobilized in the field, including 8 nationals
8 areas of operation: Niamey, Tillabéry, Zinder, Dosso, Maradi, Diffa, Tahoua, Agadez
Focus of operations: HIV/AIDS, tuberculosis, mother-child health, hepatitis
Solthis has been present in Niger since 2004.                                                                  
Approached by INAARV—Initiative for Access to Antiretrovirals—to help it develop HIV/AIDS treatment throughout the country, Solthis provides support for decentralization. The goal is to provide all populations, especially those living in outlying areas generally overlooked by the care circuit, with access to quality care.
2009-2010: Successful decentralization of access to treatment through regional hospitals
2010-2013: Extension of decentralization to district hospitals. Autonomy established for those involved in medical treatment.      
2013: Guidance in decentralization throughout the country and introduction of tools for gathering and analyzing patient data, through the CASSIS project (capacity for access to care and the health information system).
Highlights of Solthis operations in Niger
Decentralization of HIV/AIDS treatment
Reinforce the capacity of medical and paramedical staff as well as professionals responsible for treatment, biological monitoring and supply: training, tutoring.
Consolidate the supervisory role of regional and national health authorities.
Introduction of a health information system
Introduce a patient monitoring software.
Help optimize data gathering and analysis.
Train officials responsible for administering and implementing the data gathering system.
Operational research
Diagnose tuberculosis in seropositive patients.
Detect HIV/Hepatitis B co-infection in children with HIV.
Address the problem of treating viral hepatitis.
Mother and child health
Screen for HIV in malnourished children at CRENIs (intensive refeeding centers).
Screen for HIV in children with tuberculosis.
Support the delegation of tasks and the training of midwives for screening, treatment and monitoring of seropositive pregnant women and nursing infants exposed to HIV.
Therapeutic education and psychological treatment
Solthis is guiding national partners to integrate psychological accompaniment into treatment for HIV/AIDS, in a national context of a shortage of psychologists and psychiatrists.
Produce specific tools and a training manual.
Delegate psychological care to senior mental health technicians (SMHT).
Develop training modules for physicians and paramedics.
Pharmacy
Support ordering, inventory management and prevention of interruptions in supply of health products.
Implement a national pharmaceutical management software.
---
Solthis' address in Niger
Niger – Niamey
Quartier Issa Beri
Route Mohamed VI
Porte 793 – BP 10393
Country action
MALI
GUINEA
SIERRA LEONE
MADAGASCAR
COTE D'IVOIRE
SENEGAL
BENIN
BURKINA FASO
Expertise
STRENGTHENING SYSTEMS AND HEALTH SERVICES
ADVOCACY FOR FAIR ACCESS TO QUALTITY HEALTH CARE
HEALTH FINANCING
OPERATIONAL RESEARCH
HEALTH PRODUCTS AND PHARMACEUTICAL SYSTEM
CAPACITY BUILDING
HEALTH INFORMATION SYSTEM
HUMAN RESOURCES FOR HEALTH
GOVERNANCE AND HEALTH POLICIES
Health Service Provision Initiatives
Capacity building and empowerment
Community mobilisation and health promotion
LABORATORIES AND TECHNICAL PLATFORMS
Our areas of expertise
Health priority
Fighting Covid-19
Fighting HIV / AIDS
Fighting tuberculosis
MALARIA
Fighting HEPATITIS
Promoting Sexual and Reproductive Health and Rights
Improve the health of children in Africa
COVID-19
Infectious and emerging diseases
Child Health