AIDS 2016: our study on low retention of patients in ARV treatment during recent Ebola outbreak in Conakry presented as a poster and quoted in La lettre de l'infectiologue
International AIDS Conference 2016 - Durban - July 18 to 22
26 July 2016 | Talking about us
GUINEAOPERATIONAL RESEARCHFighting HIV / AIDS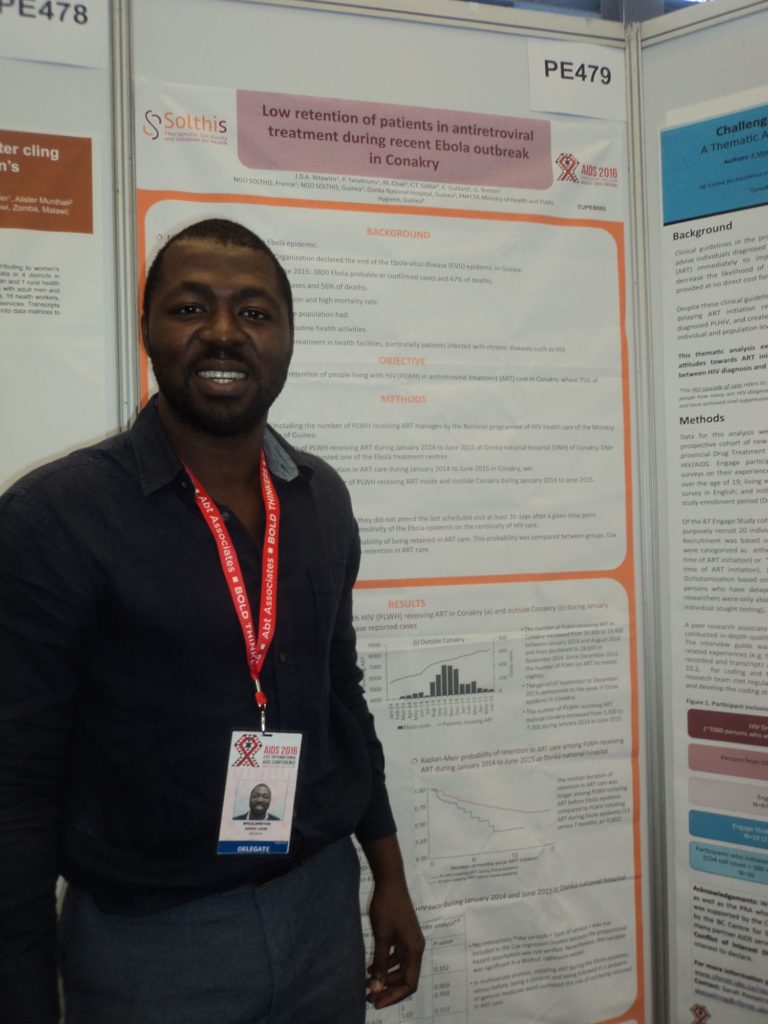 During the last international AIDS 2016 conference held in Durban from 18 to 22 of july, Wole Ameyan, medical coordinator at Solthis, presented the poster "Low retention of patients in antiretroviral treatment during recent Ebola outbreak in Conakry".
Click here to download the poster
This study has been quoted in "La lettre de l'infectiologue", in its issue special AIDS 2016 dated July 20,  in the article "The impact of the Ebola epidemic on HIV healthcare in Conakry" (in french) stating that "the commitment of an NGO like Solthis in operational research projects allows to advance knowledge with 'field' data and can boost the advocacy and therefore the response to future epidemics".
The objectif of the conference was to draw attention on the goals reached in the fight against AIDS and the obstacles that impeded effective HIV prevention and treatment programs. In particular, AIDS 2016 aimed to reinvigorate the response to HIV and AIDS by "bringing together the world's experts to advance knowledge about HIV, present new research findings, and promote and enhance scientific and community collaborations around the world".
Official website:  http://www.aids2016.org/
NAM aidsmap for more information: http://www.aidsmap.com/