Solthis has been active in Guinea since 2008, at the request of Guinean authorities. Solthis operations in Guinea are helping to improve patient care through capacity building and decentralization of care delivery in the battle against tuberculosis, HIV/AIDS, malaria, Ebola and mother-to-child transmission.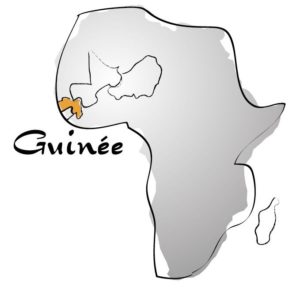 | | |
| --- | --- |
| Population (millions) | 11,8 |
| Life expectancy at birth | 56,1 |
| HDI rank | 179 |
| Fertility rate | 5 |
| Infant mortality per 1,000 births | 101 |
| Number of physicians per 10,000 population | 1 |
| Total health expenditures | 6 % |
UNDP, 2014 Human Development Report
Health priorities
Infectious and parasite-vectored diseases, especially malaria, respiratory infections, diarrheic diseases, tuberculosis and HIV/AIDS remain the leading causes of death. Young children and pregnant women are the populations most affected by these diseases.
Starting in December 2013, Guinea had to cope with the Ebola epidemic that triggered a major health crisis, which revealed the weaknesses in the country's health system. The disorganization of all health services had a serious impact on access to care for everyone. In particular, continuity of care for people with chronic diseases such as HIV was severely disrupted.
Operational context
Started: 2008
Main partners: PNPCSP (national health care and STD/HIV/AIDS prevention program, under the Ministry of Public Health) and CNLS (national committee to battle AIDS)
45 sites supported: for the health information system (HIS), including 21 sites for the medical and infection prevention component (focused on Ebola)
Team: 20 health professionals, including 13 nationals
8 main areas of operation: Conakry and the Boké, Labé, Mamou, Faranah, Kankan, N'Zérékoré and Kindia regions
Focus of operations: HIV/AIDS, tuberculosis, mother-child health, opportunistic neurological infections, Ebola, hepatitis, diabetes
In 2008, Guinean authorities approached Solthis to guide them in extending public healthcare delivery to patients infected with HIV/AIDS. Since then, the goal has been to improve access to quality care for all patients by strengthening national agencies and decentralizing care to expand access to antiretroviral treatment via new health structures in Conakry and Boké, and by fostering better coordination of care delivery for seropositive patients.
2008-2013: Improved care in the Donka and Ignace Deen national hospitals in Conakry and Boké regional hospital; decentralization of care to eight new sites in the Conakry and Boké regions; technical assistance for supply management and upgrading the health information system
2013-2016: Implementation of the CASSIS (capacity for access to care and the health information system) project and continued decentralization of care in nine new sites, plus support for the health information system at all HIV treatment sites in the country
Highlights of Solthis operations in Guinea
Support for decentralization of HIV treatment
Build capacity of medical and paramedical staff: training, tutoring and support for advisory screening at the caregiver's initiative.
Consolidate the supervisory role of regional and national health authorities.
Introduction of a health information system
Introduce data-gathering tools in HIV patient treatment centers.
Automate the data bases.
Train officials responsible for administration and implementation of the data-gathering system.
Support reinforcement of the national health information system and harmonization of HIV data in the national health information system.
Treatment of tuberculosis/HIV co-infection
Introduce HIV screening and treatment for tuberculosis patients at the Carrière tuberculosis center.
Develop diagnosis and treatment of tuberculosis in seropositive patients.
Improved biological and virological monitoring
Introduce collection equipment and circuits for tracking viral load.
Train laboratory technicians or biologists in good screening practices.
Operational research
Strengthen the eTME strategy (elimination of mother-to-child transmission).
Intensify screening and monitoring of exposed or infected children.
Conduct research on opportunistic neurological infections.
Supply and inventory management
Ensure uninterrupted on-site availability of drugs and health products.
Continuity of care in the Ebola context
Ensure the safety of caregivers and patients within healthcare structures.
Help the system recover no-show patients and adapt care delivery for patients still under supervision.
Improve hospital hygiene for better prevention of infections in caregiving facilities.
Prepare for the post-Ebola phase by participating in national deliberations on strengthening Guinea's health system.
---
Solthis' address in Guinea
Guinea – Conakry
Quartier Dixinn Port 3
Corniche Nord
Town of Dixinn
BP 6699
Country action
BURUNDI
CAMEROUN
COTE D'IVOIRE
MALI
NIGER
SIERRA LEONE
SENEGAL
Expertise
STRENGTHENING SYSTEMS AND HEALTH SERVICES
ADVOCACY FOR FAIR ACCESS TO QUALTITY HEALTH CARE
LABORATORIES AND TECHNICAL PLATFORMS
OPERATIONAL RESEARCH
HEALTH FINANCING
GOVERNANCE AND HEALTH POLICIES
CAPACITY BUILDING
Health Service Provision Initiatives
Capacity building and empowerment
Community mobilisation and health promotion
Therapeutic Patient Education
HEALTH PRODUCTS AND PHARMACEUTICAL SYSTEM
HUMAN RESOURCES FOR HEALTH
HEALTH INFORMATION SYSTEM
Health priority
Fighting HIV / AIDS
Infectious and emerging diseases
Fighting tuberculosis
MALARIA
Promoting Sexual and Reproductive Health and Rights
Fighting Covid-19
COVID-19
Fighting HEPATITIS
Improve the health of children in Africa