Niger-Mali : Today, young girls visit health centres to inform themselves on sexual and reproductive health
3 May 2019 | Informations | partners, sexual and reproductive health, youth health
MALINIGERSTRENGTHENING SYSTEMS AND HEALTH SERVICESPromoting Sexual and Reproductive Health and Rights
Youth health: Meet our partners NGO Walé, NGO ASDAP and NGO Lafia Matassa to know more about the impact of the project JADES in Mali and Niger. A  project carried out in collaboration with Equilibres et Population since January 2016, in Bamako, Segou, Niamey and Maradi to promote sexual and reproductive health of adolescents.

Stanislas Dakono, ASDAP NGO , Focal point – JADES project: Although it is a drop of water  in a bucket, the JADES project has helped to improve the situation of young people and adolescents in Mali.
"The collaboration with the JADES project has been really beneficial for us, field actors. It allowed to work with the local community, including community listening centres. We have worked with both in-school and out-of-school adolescents. The work done has yielded results, a drop in the bucket for sure, but which today represent a significant step forward in the Malian context where young people did not have access to reliable information. Information can help them to protect themselves, to have safe practices. If in an adolescents' group, no one is informed, false information circulates, but if there is one holding true information, he will be able to deny it and give accurate information to others. JADES has made a significant contribution to improving young people's knowledge. Young leaders were informed and trained to lead awareness-raising activities with other young people.
Health workers have also been trained to improve the quality of health care for young people. Today, we can say that the project made it possible to progress on certain points that were not moving in Mali, on Sexual and Reproductive Health Rights, because as soon as we talked about them, there were many questions that were raised, and the project helped to provide answers on these questions around pregnancy, family planning and sexually transmitted infections. Today, we are proud to say that the JADES project has helped to improve the living conditions of young people and adolescents in Mali. Parents call to ask questions, and some religious leaders support us.
Dr Assitan Gambele, ASDAP NGO, Doctor in charge of the Youth and Adolescents Program: Before, young people were marginalized. Today, they are more comfortable and visit health centres more often.

The JADES project had a positive impact in health centres, in particular by strengthening the capacity of health workers to receive and provide quality care. Before, young people were marginalized in health facilities, now they are feel at ease thanks to the project. They visit more health centres and the centres respond more to their needs. They also tried to adapt their schedules to the adolescents timing, because before, the schedules were not adapted: young people would come in the evening, and the team in charge of Sexual and Reproductive Health issues were not necessarily on site. With the JADES project, partner health centres have tried to organize themselves to adapt to the adolescents'needs.
"In health centres, health workers put themselves in the shoes of parents without considering the issues facing young people. A girl under 18 years of age came to the centre, the caregiver did not want to listen to her needs. When she saw her pregnant 5 months later, she felt guilty," adds Stanislas Dakono.
Dr Ali SOUMOUNTERA, Director of the NGO WALE, Ségou: The approach of involving the main targets of the project adopted from the beginning has been the success key of JADES and will contribute to its sustainability.

The key elements that contributed to the success of the JADES project is mainly the approach that was adopted from the beginning: the involvement of the project's first targets, including young people. Their identification and training were based on their main needs: we started from the project objectives that were already developed to adapt them so that young people could effectively contribute, so as leaders who are also key actors in the youth environment. It took time to ask them what were their needs to complete the tasks entrusted to them by the project: passing on information, stimulating discussions, transforming the environment. Each actor had to say according to their capacities and shortcomings, the needs to be satisfied  in order to be effective in the project implementation. I think this is a dimension that has been very beneficial and will contribute to the sustainability of the project. Trained leaders are now used to hosting radio programs or young people who have learned to lead information sessions independently. This is an achievement for us even if the project ends in Mali. The institutional partners, in which we have worked, have become aware of this reality and have seen that the structure and method of support really allows the school to get by. Especially since there are other institutions that envied the approach, but did not get it because the project had its limits. These are strategies that we can then build on to really move forward.
Boubi Abou Amina, JADES Project Manager and Community Mobilization Officer, Lafia MATASSA NGO : We must ensure that all actors are involved in fighting violence and sexual behaviours at risk for young people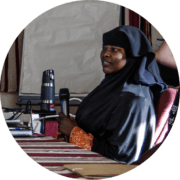 We worked with young people, their supervisors, parents, community leaders, women's groups and technical services through the various public services in the Niamey and Maradi regions. They benefited from capacity building and in turn carried out actions towards the community, towards other young people through education and intergenerational dialogue. These activities have not been without impact, because we can quote the involvement of the school community, the authorities of the Ministry of Youth and the community leaders identified in the Maradi region. We are trying to adopt a multi-stakeholder approach and work with young people so that we can reach more young people and contribute effectively to promoting sexual and reproductive health among young people and adolescents.