The issues
In the world today, 400 million people lack access to essential care.
Although there has been undeniable progress in terms of global health, there are still huge areas of need, particularly in formulating a long-term solution to health concerns.
This is especially true in Africa, where health systems remain fragile because of a lack of financial resources, organisational issues and human resources. In this context, Solthis is working to develop a concrete, complete and permanent solution to public health needs.
Our strategy
For over 15 years, we have been developing our exper-tise using a systematic and multidisciplinary approach to work around the various components of health systems, as defined by the WHO, to create a global momentum across countries. This involves joint action both on the quality of the provision of healthcare services and on the promotion of health and community mobilisation. Solthis has chosen two areas of intervention in order to influence the offer of care services: improving the quality and performance of healthcare services, but also support for the evolution of the content and organization of health services, notably by optimising care pathways and their organisation.
The ongoing operation of these services requires essen-tial resources and preconditions such as training and support of staff, the quality of production and analysis of medical results by laboratories as well as supply chains guaranteeing continuous access to treatment. See our 8 expertise domains
Solthis would also like the provision of care to be user-centred in order to recognise the role of patients and communities in improving the quality of healthcare ser-vices. We believe in the power of the collective, in the value of bringing together civil society actors, researchers and public actors for resilient healthcare systems.
Solthis in the field :
• Focuses on a strategy of health promotion and community mobilisation which aims to enable users to define their own needs and to promote their primary role in defining services through feedback on their experiences or their involvement in steering and governance.
• Acts to improve health services across the continuum of care simultaneously covering promotion, prevention, testing, therapy, long-term monitoring of patients, taking into account all patient needs, whether clinical and biological, cognitive, psycho-social or emotional, in order to achieve the best possible health results as well as the commitment and empowerment of patients.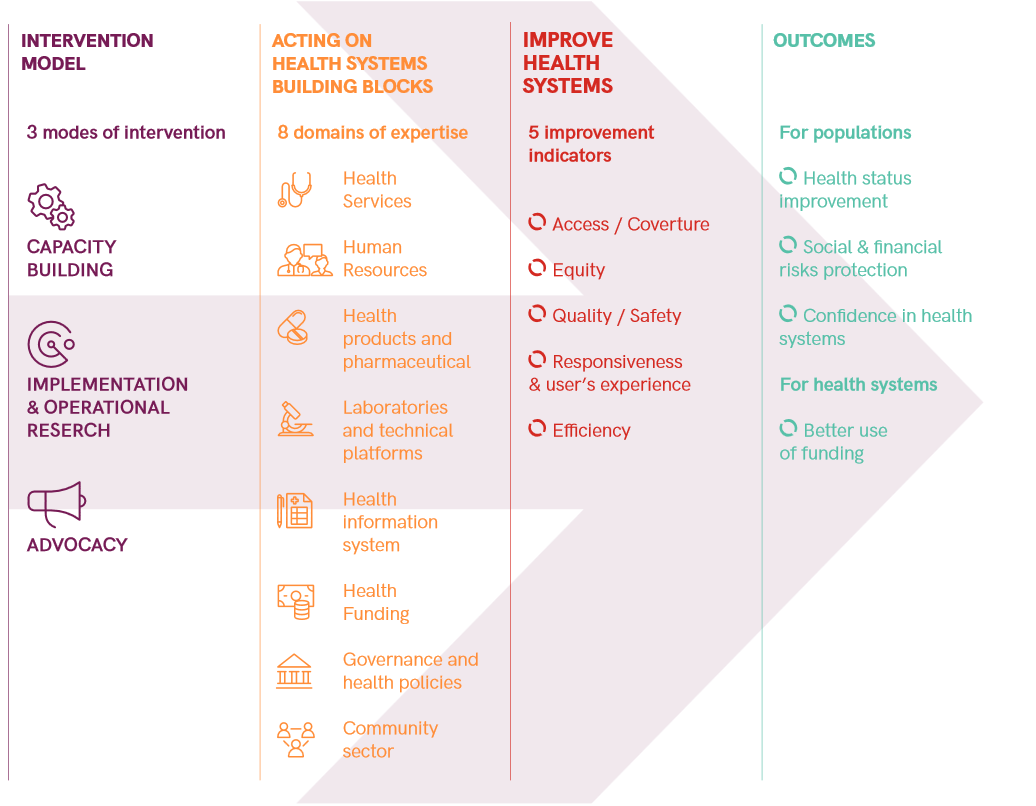 Country action
SENEGAL
MALI
NIGER
COTE D'IVOIRE
SIERRA LEONE
GUINEA
RDC
BENIN
BURKINA FASO
BURUNDI
CHAD
MOROCCO
MADAGASCAR
Expertise
Capacity building and empowerment
CAPACITY BUILDING
HUMAN RESOURCES FOR HEALTH
ADVOCACY FOR FAIR ACCESS TO QUALTITY HEALTH CARE
LABORATORIES AND TECHNICAL PLATFORMS
HEALTH INFORMATION SYSTEM
OPERATIONAL RESEARCH
Health Service Provision Initiatives
Community mobilisation and health promotion
GOVERNANCE AND HEALTH POLICIES
HEALTH PRODUCTS AND PHARMACEUTICAL SYSTEM
HEALTH FINANCING
Our areas of expertise
Health priority
Promoting Sexual and Reproductive Health and Rights
Fighting Covid-19
Fighting HIV / AIDS
Fighting tuberculosis
Improve the health of children in Africa
COVID-19
Infectious and emerging diseases
Fighting HEPATITIS
MALARIA
Promoting One health
Child Health