Solthis has been active in Mali since 2003. Initially approached by the Mali's Ministry of Health to guide it through development of quality care in the Ségou region, Solthis is now supporting the decentralization in progress throughout the country as it battles hepatitis, tuberculosis, malaria and HIV/AIDS.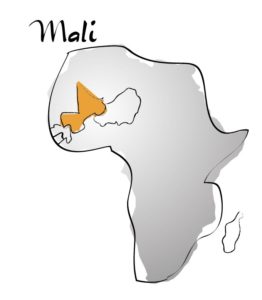 | | |
| --- | --- |
| Population (millions) | 15,8 |
| Life expectancy at birth | 55 |
| HDI rank | 176 |
| Fertility rate | 6,9 |
| Infant mortality per 1,000 births | 128 |
| Number of physicians per 10,000 population | 0,8 |
| Total health expenditures (% of GDP) | 6,8 % |
UNDP, 2014 Human Development Report
Focus on five health priorities
Sexual and reproductive health
Mali has one of the world's highest infant mortality rates at 128 deaths per 1,000 children. Pediatric care therefore is a priority for the country.
Malaria
Malaria is the leading cause of death for all pathologies combined in Mali. This disease alone accounts for more than 30% of medical consultations in the country. Children under age 5 are the most vulnerable.
Hepatitis B
Hepatitis B poses a major public health problem, especially because it is transmitted in most cases from mother to child and during early childhood. A recent study reported an incidence of 15%.
Tuberculosis
The literature shows that tuberculosis is often an opportunistic disease in HIV patients and that HIV aggravates the disease's progress. Mali's national protocol therefore recommends automatically providing HIV advice to all tuberculosis patients or suspects. However, management of TB/HIV co-infection remains poor.
Solthis' operational context in Mali
Started: 2003
Partners: Ministry of Health and Public Hygiene, and its regional units, SE/HCNLS
Areas of operation: Ségou, Bamako, Mopti
29 sites supported
Focus of operations: HIV/AIDS, hepatitis, tuberculosis, mother-child health, sexual and reproductive health
After being approached by the Ministry of Health to guide it through development of quality care in the Ségou region, Solthis is now supporting the current decentralization initiative throughout the country.
2009: Start of second phase of our operation. Following the phase-out of onsite medical support in the Ségou area, Solthis is providing upgraded support in the Mopti and Bamako areas. In the Ségou area, Solthis is developing Education for Health activities.
2012-2013: Declining security situation. Solthis is continuing its activities to maintain delivery of care to patients treated at supported sites.
2014: The security and institutional crisis has had an uneven impact on Solthis' program in Mali. Staff movements in the Mopti area have had to be limited strictly to the city of Mopti in the first three quarters.
Highlights of Solthis operations in Mali
Support for decentralization of care
Train and mentor health professionals for treatment of seropositive patients and sound management of supplies.
Support regional authorities to monitor decentralization.
HIV screening in care settings
Raise awareness of decision makers and train caregiving staff to generalize the automatic offer of HIV screening to patients at risk of infection.
Improve screening of key populations in Ségou (seasonal workers, sex workers, men having sexual relations with men) and their access to care.
Awareness-raising and battling stigmatization
Awareness-raising and communication initiatives promoting screening, in the media, schools, and with populations at risk of infection (seasonal workers, sex workers, men having sexual relations with men)
Actions to battle stigmatization of people living with HIV by opinion leaders (clerics, journalists) and in health centers
Mother-child health
Introduce early screening of children exposed to HIV by PCR/DBS in Mopti
Train paramedics to improve care for pregnant women.
Introduction of a health information system
Improve management of health information to avoid a rise in lost patients (no-shows for last appointment) and a break in HIV products.
Pharmacy
Ensure continuous availability of inventory, and track/assess consumables to align orders with needs as much as possible.
Improved biological and virological monitoring
Train biologists to use the viral load monitor.
Provide technical and financial support to upgrade molecular biology technology in laboratories.
Mentor staff on compilation, quality control, analysis and interpretation of CD4 and viral load results.
Operational research
Conduct research on preventing mother-to-child transmission of the hepatitis B virus.
---
Solthis' address in Mali
Mali – Bamako
Rue 189 – Porte 372
Korofina Nord
BP 3062
Country action
NIGER
COTE D'IVOIRE
SENEGAL
GUINEA
SIERRA LEONE
MADAGASCAR
BURUNDI
CAMEROUN
Expertise
STRENGTHENING SYSTEMS AND HEALTH SERVICES
Capacity building and empowerment
CAPACITY BUILDING
HUMAN RESOURCES FOR HEALTH
ADVOCACY FOR FAIR ACCESS TO QUALTITY HEALTH CARE
HEALTH FINANCING
GOVERNANCE AND HEALTH POLICIES
OPERATIONAL RESEARCH
HEALTH INFORMATION SYSTEM
HEALTH PRODUCTS AND PHARMACEUTICAL SYSTEM
Community mobilisation and health promotion
LABORATORIES AND TECHNICAL PLATFORMS
Therapeutic Patient Education
Health priority
Fighting Covid-19
Fighting HIV / AIDS
Fighting tuberculosis
MALARIA
Fighting HEPATITIS
Promoting Sexual and Reproductive Health and Rights
Infectious and emerging diseases