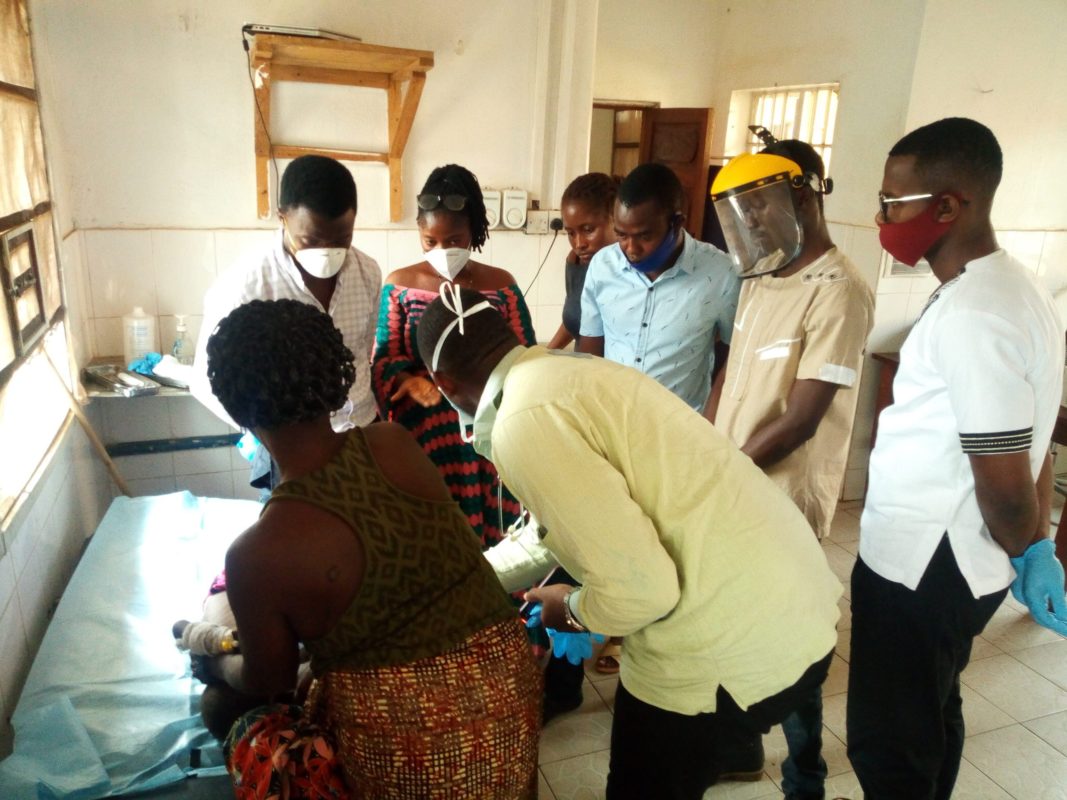 First infectious cause of mortality among people living with HIV
Tuberculosis is one of the leading infectious causes of death in the world and is the leading cause of death among people living with HIV (PLHIV). According to the WHO, 9.9 million people were infected with TB and 1.5 million died from it in 2020, including 214,000 HIV-positive people. Children, along with PLHIV, are particularly affected by the disease, with an estimated 1.1 million cases worldwide in 2020.
In 2014, WHO developed the End TB strategy with the goal of achieving a 95% reduction of mortality and 90% reduction in new cases by 2035 compared to 2015. This strategy requires improving TB diagnosis, improving treatment especially of multidrug-resistant forms, implementing preventive strategies, and continuing collaboration of TB and HIV programs.
Our work: tackling the challenge of tuberculosis under-diagnosis

Solthis is participating in the End tuberculosis strategy in Sierra Leone through the TB-speed project, which aims to improve TB diagnosis among children under 5 years of age. In Sierra Leone, as in other countries particularly affected by tuberculosis, a majority of those affected by the disease are not diagnosed or declared and therefore do not receive appropriate treatment.
This lack of diagnosis is due to the absence of child-friendly tuberculosis diagnostic capacity in many primary health centers. Childhood TB services are concentrated in regional and national level health facilities, limiting access in remote areas. Solthis is currently participating in the TB-speed project to help test new and effective testing strategies in remote areas to address this need. Learn more about the TB-Speed project.
In addition, Solthis continues to develop comprehensive approaches to TB control to help achieve the goals of the End TB strategy. Its efforts are focused on the following main areas:
TB testing and management
TB testing in children (TB-speed project)
TB testing for PLWHA and better coordination between HIV and TB programs.
testing for tuberculosis in the general population, in rural areas
implementation of preventive treatment of tuberculosis in populations most at risk (PLWHA)
work on stigma issues (sharing status, peer involvement), which remains an obstacle to the fight against this pandemic
integration of psychosocial dimensions in patient care, and in particular the issues of therapeutic compliance, which guarantees effectiveness, and the prevention of the emergence of resistant strains.
 ——
Country action
GUINEA
MALI
NIGER
SIERRA LEONE
MADAGASCAR
CHAD
BENIN
BURUNDI
Expertise
ADVOCACY FOR FAIR ACCESS TO QUALTITY HEALTH CARE
HEALTH FINANCING
CAPACITY BUILDING
OPERATIONAL RESEARCH
Capacity building and empowerment
STRENGTHENING SYSTEMS AND HEALTH SERVICES
LABORATORIES AND TECHNICAL PLATFORMS
GOVERNANCE AND HEALTH POLICIES
HUMAN RESOURCES FOR HEALTH
HEALTH PRODUCTS AND PHARMACEUTICAL SYSTEM
HEALTH INFORMATION SYSTEM
Our areas of expertise
Health priority
Fighting HIV / AIDS
MALARIA
Fighting HEPATITIS
Fighting Covid-19
Infectious and emerging diseases
Fighting tuberculosis
COVID-19