After Paris, Montreal, Brussels, actors in the fight against HIV gathered in Casablanca on March 28 to 31, for the
Fifth Conference of Francophone fight against AIDS
Doctors, researchers, associations and instititutionnels, South and North, have answered the call for four days of scientific discussions, experience sharing and solidarity! On this occasion, Solthis mobilized to participate in this major event in the fight against HIV: a delegation of 40 people, 4 oral presentations, 4 posters, a symposium and a stand!
Read Solthis interviews with the Presidents of the Conference: Professor Hakima Himmich, Professor Eric Delaporte and Professor Gilles Brucker
Symposium 1 - Sunday, March 28 at 16h - Room Jouad El Jai
Perspectives on the overlooked: which tools for what response?
Diagnosis, by epidemiologist Elizabeth Chicken (Epicentre). How to measure the level of defaults and how to define the issues of sight loss?
The analysis, by anthropologist Séverine Carillon (CEPED). Possible causes with the example of those lost to in Kayes, Mali.
Treatment, by Dr. Drissa Katile (NGOs Wale). The example of the active search for patients in Segou, Mali.
Introduction - Gregoire Lurton
See the oral presentations of this conference
See the posters
NEWSLETTER  9 : March 2010 - Special CASA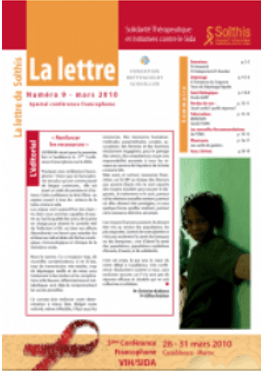 This number is published on the occasion of the Francophone Conference, Solthis revisits some of which abstracts will be presented.
Interviews
with Himmich Pr, Pr Pr Delaporte & Brucker, the co-chairs of the Conference
Screening:
The déspistage initiated by the Caregiver and the rapid screening tests
Biological monitoring:
Reactions of experts to study the DART Folder on the phenomenon of
Lost to:
What tools? what response?
Tuberculosis:
The MDR / XDR and Practical Guide to WHO in its fight against infections
Folder on the new WHO recommendations
Pharmacy
management tools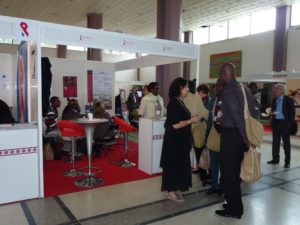 Each day teams Solthis were present at the stand number 8 to host and their field activities.