The issues
The main issues which countries with limited resources currently face in managing the provision and storage of medical products are the risks of supply shortages leading to interruptions in patient care.
Our priorities
Avoid supply shortages
Enable consistent access to quality medicines
Ensure the appropriate usage of health products by prescribers, dispensers and patients
Our objectives
Guarantee the continual availability of medicines and medical products necessary for patient care.
Ensure products are distributed to clinical facilities, with quality control at all levels of the supply chain
Facilitate the rational usage of medical products, supporting healthcare professionals and better enabling patients to pursue their treatment.
Our intervention strategy
A systematic approach in all areas of stocks and supply management.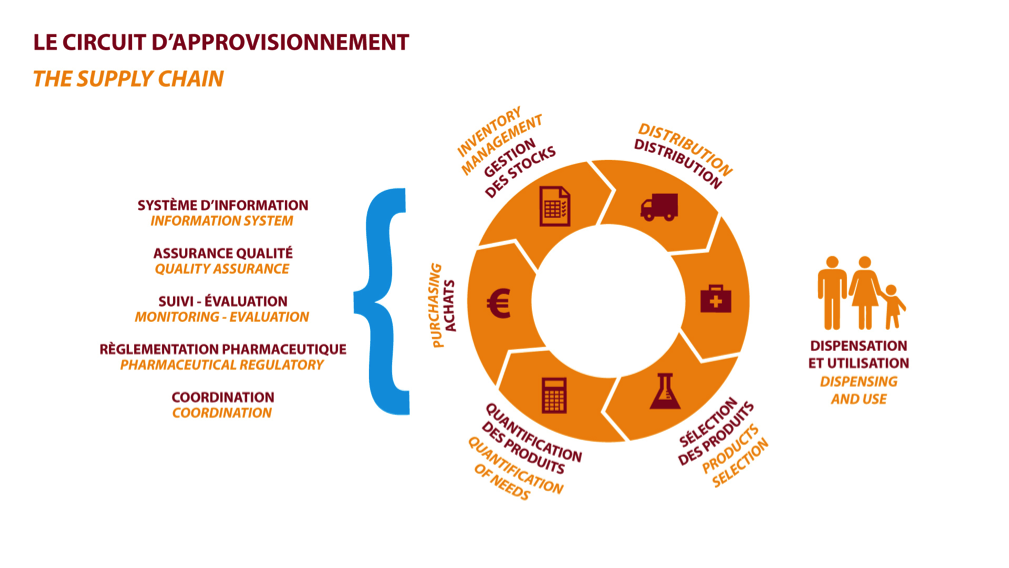 What we do in the field
Organisation and coordination
Support the coordination and the collective dynamic of the key actors and institutions in the pharmaceutical system to improve the flow of information.
Implement control systems to secure the availability and quality of medical products.
Support pharmacists and managers/ dispensers in the organisation of the movement of medicines within the health system.
Pharmaceutical policy
Support the definition, the implementation, and evaluation of pharmaceutical policies: pharmaceutical regulations, quality assurance and medical product management.
Formulate norms and procedures for good practice in purchase, storage and distribution.
Lobby for the updating of human resource policies in the pharmaceutical sector, taking account of operational constraints (staff turnover, delegation of tasks).
Selection, quantification and purchase
Assist in the prediction of a country's needs in terms of medicines and medical products, the formulation of supply and provision management plans and finance requests.
Support the identification of the range of essential pharmaceutical products and the definition of technical specifications linked to these products.
Find out about our ARV and medical products quantification tools
Distribution
Produce advice to organisations in operationalising and rationalising the medical products distribution chain.
Pharmaceutical and logistical information system
Strengthen pharmaceutical and logistical information systems by: modernising management and reporting tools, digitalising management systems and defining and implementing monitoring and evaluation indicators.
Inventory management
Assessment of available inventory and implementation of early warning systems to avoid shortages and waste at all levels of the supply chain.
Implementation of procedures to ensure optimal storage conditions and preserve the quality of healthcare products throughout their shelf life.
Pharmaceuticals: dispensing and rational use
Training and one-on-one tutoring for pharmacists, managers and dispensers in care sites.
Check out our card game and have fun while learning about ARVs
Testimonial
Solthis helps us to select the necessary products for screening and treating HIV/AIDS, as well as to inventory, store, and even distribute them in prescription centers — Pharmacist in Niger
---
Our national partners
Partnerships

National agencies: Ministère de la Santé (Ministry of Health), Direction Nationale de la Pharmacie et des Médicaments (Pharmacy and medications), Centrale d'Achats de Médicaments (Medication purchasing center), national AIDS programmes

Regional institutions: health departments, pharmaceutical depots

Hospital and health center pharmacies

Global Fund

Drug Platform of the French Ministry of Foreign Affairs

PSM Hubs: JURTA PSM & Treatment and CPP (Coordinated Procurement Planning)

AMDS (AIDS Medicines & Diagnostics Services)

Academic Partnerships: ISPED, RAF, Faculty of Pharmacy of Caen and Chatenay-Malabry

Partner Associations: Remed, Sidaction, Pharmacie et Aide Humanitaire (Pharmacy and Humanitarian Relief)
Country action
NIGER
MALI
BENIN
BURKINA FASO
GUINEA
BURUNDI
CAMEROUN
COTE D'IVOIRE
SIERRA LEONE
SENEGAL
Expertise
OPERATIONAL RESEARCH
HEALTH FINANCING
CAPACITY BUILDING
STRENGTHENING SYSTEMS AND HEALTH SERVICES
HUMAN RESOURCES FOR HEALTH
LABORATORIES AND TECHNICAL PLATFORMS
GOVERNANCE AND HEALTH POLICIES
HEALTH INFORMATION SYSTEM
ADVOCACY FOR FAIR ACCESS TO QUALTITY HEALTH CARE
Capacity building and empowerment
Community mobilisation and health promotion
Health priority
Fighting HIV / AIDS
Infectious and emerging diseases
Fighting tuberculosis
Fighting HEPATITIS
MALARIA