GUINEANIGERSTRENGTHENING SYSTEMS AND HEALTH SERVICESFighting Covid-19
HELP REDUCE THE IMPACT OF THE COVID-19 EPIDEMIC ON PATIENTS AND HEALTHCARE WORKERS IN 20 HEALTH FACILITIES IN NIGER AND GUINEA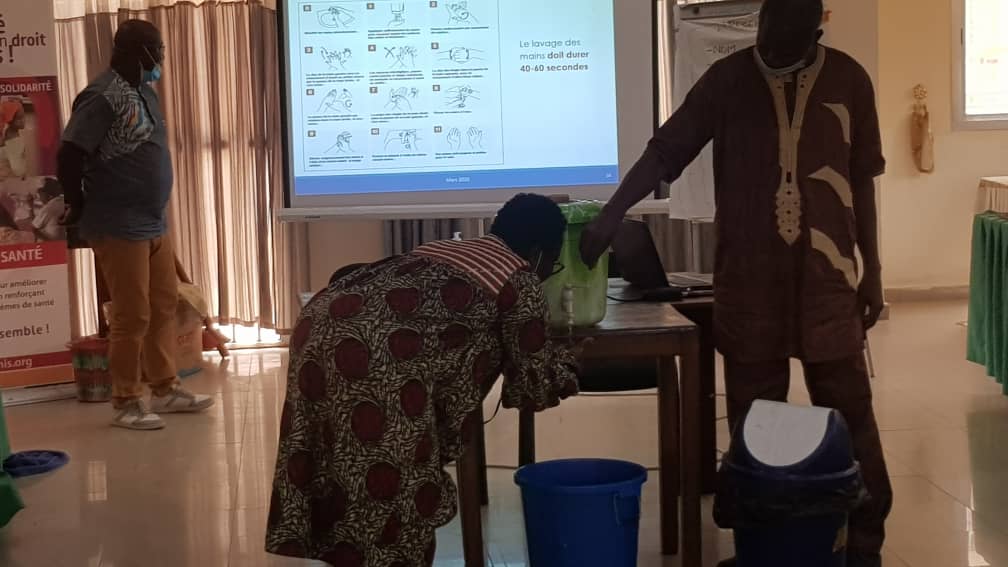 Background
On March 11, 2020, the WHO declared Covid19 a pandemic. Beyond the health effects caused by the virus itself and the need to protect local populations and health professionals, a major issue is related to maintaining the use of health care by communities and the continuity of essential services, particularly in the areas of maternal and child health (IMCI), sexual and reproductive health (SRH), and HIV care.
In fact, despite the easing of government measures that have allowed the resumption of activities in all health services, attendance at health centers remains low, leading to a high risk of poor access to care, loss of sight and interruption of treatment, with harmful consequences in terms of morbidity and mortality in the months to come.
 
Duration of the project
12 month
Partners
Ministries of Health of the Republic of Guinea and Niger

Lafia Matassa, Ablogui, FEG, REFIG and REGAP+ associations

Beneficiaries
20 health structures – 800 carers and 15 psychosocial support workers
Members of Solthis' partner associations
Source of funding
AFD
Country of intervention
Guinea : City of Conakry and Niger: Cities of Niamey, Dosso and Maradi
Objectives
In response to these issues, the project aims to reduce the impact of the COVID-19 epidemic on patients and health care workers in Guinea and Niger by adapting services to ensure continuity of care and to promote the use of care.
The project will strengthen the knowledge and practices of nearly 800 caregivers in terms of hygiene, infection prevention and control (HICP), thus contributing to the prevention of new infections within the targeted structures. The project also aims to train health care staff to better detect and refer patients with COVID-19 symptoms so that they can be screened and receive appropriate care as soon as possible.
Access to HIV, SRH (Sexual and Reproductive Health) and IMCI (Integrated Management of Childhood Illness) care will be promoted for patients followed up at the sites in order to reduce the disruption of services, and consequently the number of additional deaths caused by treatment interruption or non-use of care.
Expected Results
Health actors (health facilities, health personnel, and community actors) benefit from material and technical support to improve hygiene, prevention, and infection control (HPCI)
Health actors (health facilities and personnel, community actors) are supported in the detection, triage and referral of suspected Covid-19 cases and community sensitization
Health actors (health facilities, health personnel, and community actors) benefit from technical and material support to preserve the continuity of essential services in the areas of HIV/AIDS, tuberculosis, SRH and IMCI
---
"The COVID-19 pandemic has considerably complicated the care of the most vulnerable, especially people living with HIV/AIDS. Dr. Ibrahima Diallo, physician at Ignace Deen Hospital in Conakry. Read more

"COVID-19 revealed the lack of essential protective and hygiene equipment: gloves, masks, hand-washing devices…We must learn from this crisis and empower caregivers to respect hygiene measures, to protect themselves and their patients from all diseases." Dr. Yacouba Nouhou, infectious disease physician, COVID-19 project coordinator at the Niamey Regional Hospital. To know more about the project