SIERRA LEONECAPACITY BUILDINGHEALTH INFORMATION SYSTEMHEALTH PRODUCTS AND PHARMACEUTICAL SYSTEMSTRENGTHENING SYSTEMS AND HEALTH SERVICESFighting HIV / AIDSInfectious and emerging diseases
Challenges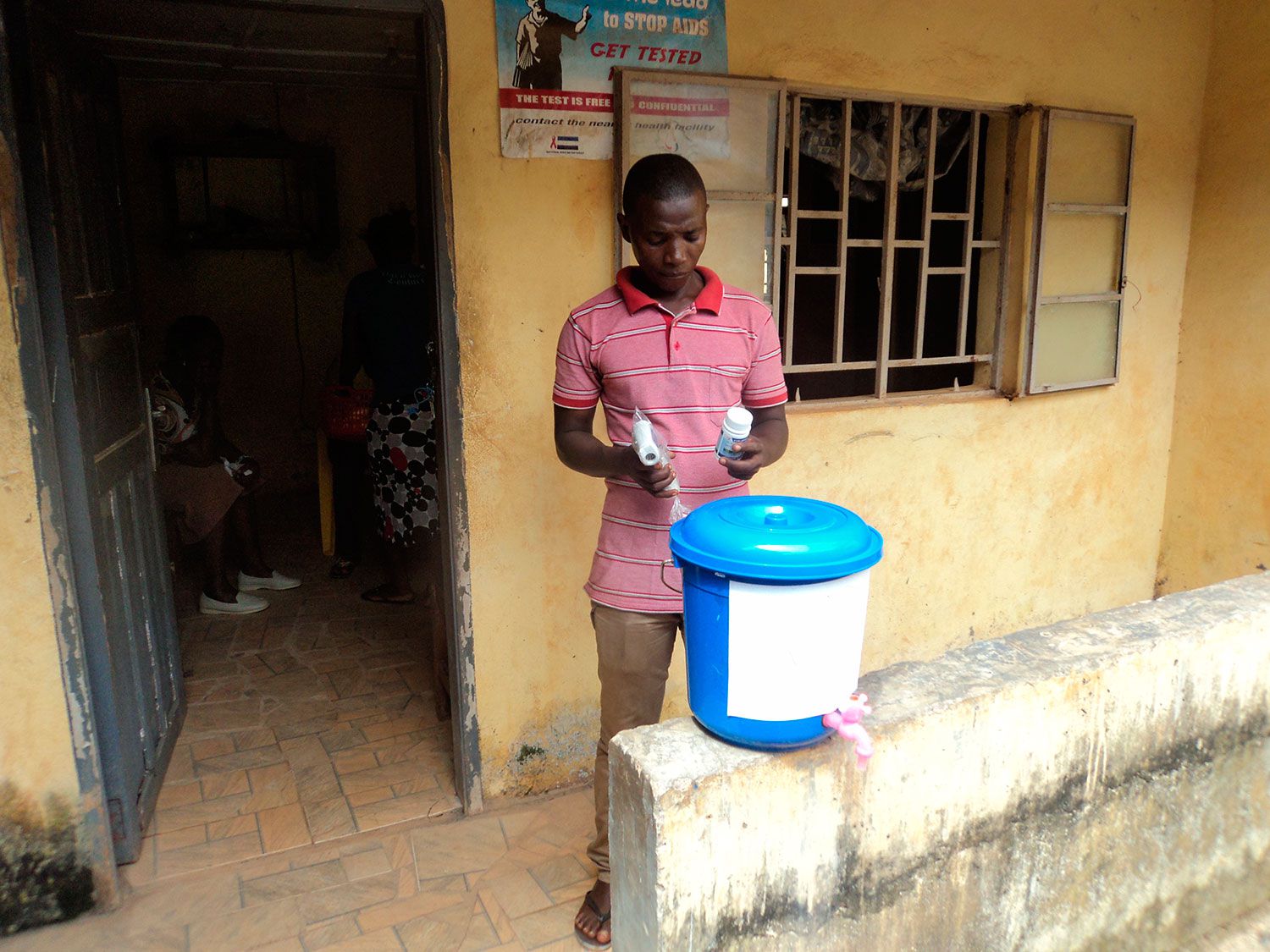 Sierra Leone, along with Guinea and Liberia, is one of the three countries that suffered most from the Ebola epidemic. Freetown, the national capital, was the most affected area within Sierra Leone. Sierra Leone's national health care system was generally fragile, and facilities were highly disorganized, allowing the virus to spread quickly. The Ebola epidemic also impacted the population's access to care seriously. Continuity of care for persons living with HIV suffered severe disruptions, as did pediatric HIV care and pediatric ARV treatment. Supplies of ARV for adults also fell, fewer patients were able to visit clinics for care, and health care providers often didn't go to work. It is thus crucial to limit the impact of the Ebola epidemic on HIV care and ensure that patients continue to access health care networks and receive care. It is also essential to ensure the safety of providers and patients in health care facilities.
This project overlaps with the National AIDS Secretariat's Mitigation Plan and complements the activities of international partners such as the British Army, King's College, the Center for Disease Control (CDC), and the WHO. This project receives technical support from Solthis and funding from the Global Fund.
Startup: January 2015
Area of intervention: Sierra Leone
Budget: 223,295 €
Funding source: 5% Initiative (Piloted by Expertise France for the MAEDI report), Fondation de France, Bruneau Foundation, Fondation Enfant Urgence
Beneficiaries: NACP (National Aids Control Program) of the Ministry of Health, NAS (National AIDS Secretariat), NETHIPS (Network of HIV Positives in Sierra Leone)
Our field teams have since 2014 reported the catastrophic situation in some hospitals.
"Health care providers face great risks. I've also seen pregnant women give birth without qualified health care providers, or with providers who didn't have gloves to wear when seeing patients or attending births." From a September 2014 report from Solthis Pediatric facility in Freetown. The only pediatric reference hospital in Sierra Leone closed a few weeks after admitting a child infected with the Ebola virus in mid-August. Our pediatrician continued to warn that, "As long as the hospital remains closed, thousands of children with curable diseases such as malaria and pneumonia will die at home. They won't receive the treatments they need. The consequences were just as severe for the public pediatric clinics that cared for children with HIV/AIDS and tuberculosis".
Objectives
Contribute to reducing the impact of Ebola on the continuity of HIV care in Sierra Leone.
Activities
Ensure the safety of caregivers and patients in health care facilities
Provide training on hygiene and prevention measures to staff from HIV care units

Monitor the implementation of prevention measures in HIV units in project target sites

Provide technical assistance to the national program to ensure the availability of protective materials in HIV units. Provide additional supplies of basic materials (gloves, masks, buckets, javelle water) to meet possible future needs
Maintain continuity of care
Support pharmacists at care sites, helping them manage ARV stocks

Manage treatment interruptions

Provide a spacer device for follow-up appointments without interrupting treatment

Collect qualitative and quantitative data about providers and patients at sites to evaluating the impact of Ebola on the continuity of care. This data will also serve to document treatment interruptions, what causes them, and their consequences.

Provide technical assistance to the NAS (National AIDS Secretariat) Logistics Unit
Return patients who were "lost to follow-up" to health care networks
Provide technical assistance and support to sites to allow them to search for patients lost to follow-up

Provide support to the NAS to help it analyze active file data thoroughly in order to determine how many patients were lost to follow-up due to the epidemic
Results
Protection of caregivers and patients from the Ebola virus in nine health care centers, focusing on HIV departments

Enhance the capacity of pharmacists at sites to ensure the continuous availability of ARV treatment for adults and children

Enhance the capacities of caregivers to ensure uninterrupted treatment and appropriate care

Analyze the impact of Ebola on the continuity of HIV care
This crisis has also highlighted the need to consider rebuilding and improving health care systems affected by the Ebola virus. Rebuilding and improving health care systems will require:
Strengthening national surveillance and diagnostic capacities for future epidemics

Restarting essential health care services

Investing in health care human resources

Improving health care and supply information systems
The WHO is a combination of international bodies that includes the World Bank and the European Union. The WHO supports countries that are trying to accomplish the aforementioned goals. Solthis is participating in working groups in Guinea and Sierra Leone that are preparing national plans to reconstruct the health care systems in those two countries.
Credits: translated by Stephen Volante of Translators without Borders