COTE D'IVOIREMALISENEGALSTRENGTHENING SYSTEMS AND HEALTH SERVICESHIV / AIDS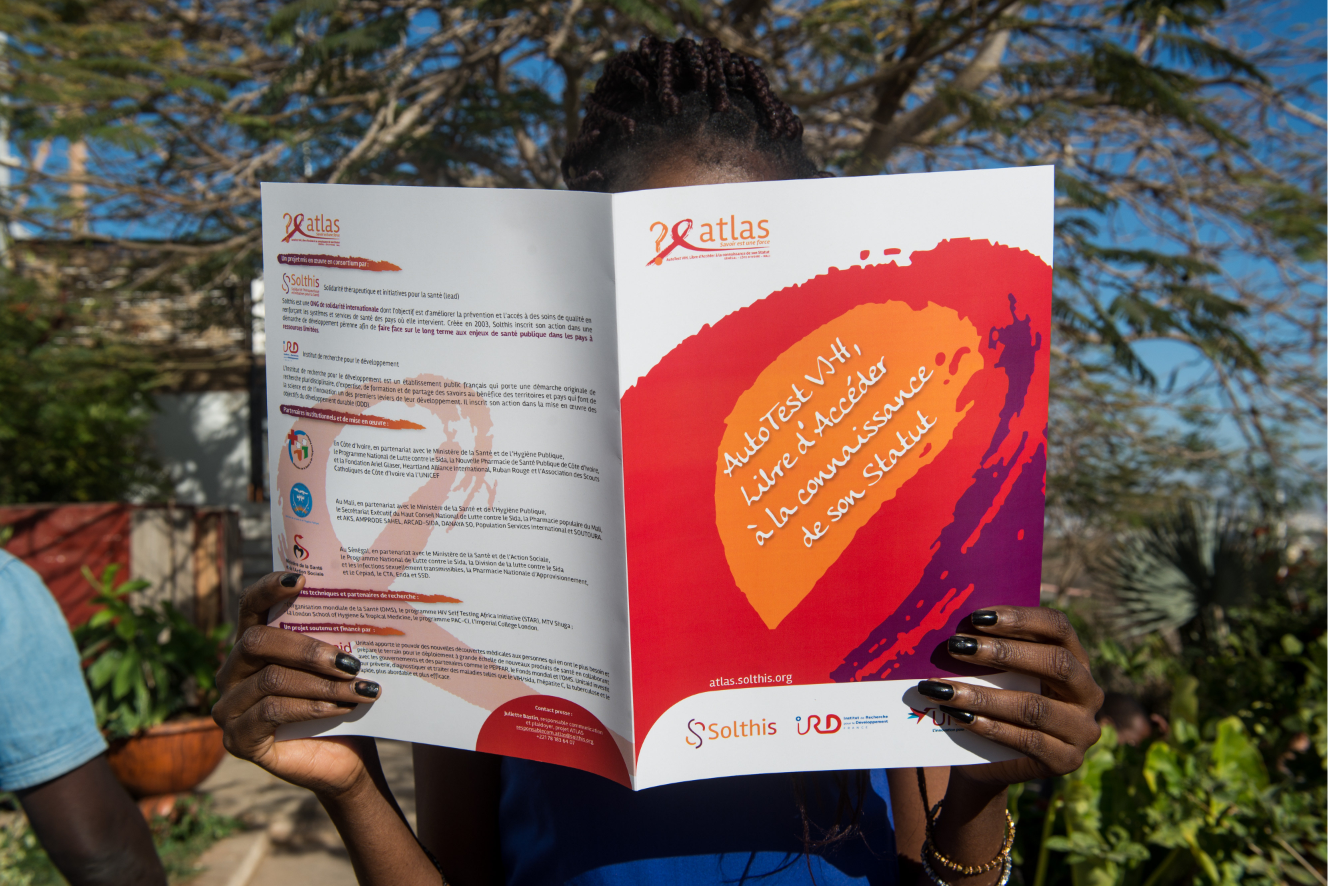 Download the Presentation Brochure of the Project
Visit the project's website : https://atlas.solthis.org/
Context
The HIV / AIDS epidemic in West Africa has prevalence rates in the general population of low to moderate: 0.4% in Senegal, 1.2% in Mali and 2.8% in Côte d'Ivoire. However, in some specific subgroups, this prevalence may be much higher, reaching 41.9% in key populations in Senegal or 12.2% among sex workers in Côte d'Ivoire.
Today, less than half of people living with HIV in West and Central Africa know their HIV status. Increasing access to testing is therefore essential to reduce HIV / AIDS-related mortality and morbidity.
The HIV self-test should make it possible to reach these specific populations that are difficult to reach and that, in a socio-cultural context still strongly marked by discrimination, can not be tracked. This is why the ATLAS project is designed as a complementary screening strategy to improve the first 90 of the UNAIDS 90-90-90 strategy.
Launch: June 2018
Duration: 3.5 years (2018 – 2021)
Countries Impacted: Cote d'Ivoire, Mali, Senegal
Funded by UNITAID
Partners: Project implemented in consortium with the IRD (Research and Development Institute), in partnership with the Ministries of Health of Senegal, Côte d'Ivoire and Mali and local associations:

• CEPIAD, CTA and ENDA Santé in Senegal
• AKS, AMPRODE Sahel, ARCAD AIDS, Danayaso, Soutoura and PSI in Mali
• Ariel Glaser Foundation, Heartland Alliance International, Ivory Coast Scouts and Ribbon Rouge in Côte d'Ivoire
Objectives: Knowing your HIV status remains an essential step in accessing treatment and ending the epidemic
The general objective of the project in terms of public health is to contribute to the reduction of morbidity and mortality related to HIV / AIDS. This will be achieved by improving access to self-testing among most-at-risk populations, by promoting referral to confirmatory testing, prevention, treatment and care. All this will reduce the number of infections and deaths associated with HIV.
Expected Results of the Project
The three-and-a-half-year ATLAS project will not only distribute 500,000 self-testing kits for HIV testing in Côte d'Ivoire, Mali and Senegal, but will also lay the groundwork for deployment. large scale of this screening strategy by governments and other partners, with the support of institutional, associative and research partners.  
500,000 HIV self-tests to be distributed to change the screening situation among the most-at-risk populations.
Objective 1:

Participate in the large scale introduction and deployment of HIV self

–

testing.

Objective 2:

Diversify distribution channels to reach the target populations of the project, encourage confirmatory testing and

treatments.

Objective 3:

Generate evidence on the results and impact of interventions through scientific studies and promote them.
——
* Follow daily the project news on https://atlas.solthis.org/
Associated contents
The 21 September 2021
28 April 2021